I've been tracking the car-related nitty gritty stuff on a couple of car forums that many of ya'll probably don't visit. For those who are interested in what all the time in between these snippets that get turned into stories are like, I've aggregated all those posts to-date below. Please forgive any repetition relative to my website; it's hard keeping track of what I've said where! 
On June 25th, I was t-boned by a car while leading my cycling team's Saturday morning ride. I collapsed twice after the accident, and the second time I was certain I wasn't waking up. That experience and all of the continued issues recovering from a head and neck injury led me to rejigger my priorities and bucket list a little, which leads us to everything that's happening below…
I bought a 1984 Carrera on Bring a Trailer last month, and the details of that can be found in my Bring a Trailer Success Story.
I'm packing light, the main items accompanying me are the following: 
Tent
Sleeping bag
Bicycle
Travel guitar
4 weight fly rod
Backpack (camera, laptop, notebook, etc.)
Duffel bag
Basic tools (+ DME and spare belt)
Some rules and goals:
Avoid interstates at all costs
Navigate by paper maps and word-of-mouth. Get lost.
Don't eat more than two consecutive meals alone, regardless of whether I know anybody where I am or not
Camp, Couchsurf, make friends, AirBnB – try to avoid the easy isolation of hotels and motels
Seek out new coffee shops, breweries, backroads, rivers, iconic Porsche people/places, bike rides, things to write about
Write something worth reading. Both automotive journalism and some concerted efforts on a book that's bigger than 'just cars.'
The beauty of doing this in an air-cooled Porsche cannot be overstated. It brings back much of the simplicity and connection to the environment that I cherished from my cross-country bike-packing trip, but I can cover a lot more ground and reconnect with my automotive passions in a profound way. The quirky layout makes for some fun constraints on what and how I can bring with me. The unpredictability of running a 32 year old car on backroads for weeks on end is exactly what I want.
And, above all, after putting nearly 3,000 miles on the car so far, I've found it to be the perfect companion. It whispers things like, "There's a donut shop 200 miles away that you want to try? We can do that!" and then gets there and back on a single tank of gas. It is equally willing to blitz local farm roads at a frenetic pace and to cruise at the limit on windy byways, simply proving a better way to travel than any dang alternative. I'm hooked beyond hooked on the Porsche mystique. After driving my local shop owner's '86, I have a Wevo short shifter and Dansk heat exchangers + 2-1 muffler being installed so I can approach his car's level of responsiveness. I figure I'll get a better ROI on a few big mods if I do them before hitting so many of the great driving roads across America. That's what I tell myself at least..
The last few days have been full of action. I drove from Fort Worth to Heber Springs, Arkansas to spend the weekend camping and fly fishing on the Little Red River. The Carrera continues to prove its road trip worthiness and made it from Fort Worth to Heber Springs on a single tank of gas (ok, I stopped in Morrilton because I needed a dang break from driving and decided to go ahead and fill er up there. My buddy who drove the direct route on the Interstate in his Silverado had to fill up twice.
I did my best to take exclusively serpentine backroads, but had to stick to US 75 for a while to make decent progress out of the DFW area into Oklahoma.
Sherman, Texas off US 75:
Just north of Durant, I bent off towards Talihina and took some seriously twisty roads through the Ouachita National Forest. The surrounding scenery went from Choctaw casinos to dense forests and steep mountains in a hurry, which then gave way to a torrential downpour that made for some very tense moments. Then, the rain stopped and I was met with one of the most mindblowing scenes I've ever come across. The mountains of Oklahoma are stunningly beautiful, as best summarized by a conversation I had with a sixty-something Southern Belle in her cherry red C7 Corvette (with hair to match!) in the absolute middle of nowhere.
"You know, a lot of people think Oklahoma is just flayuht and boring. Mostly military guys who have only ever been to Lawton." We chatted for a bit and she pointed me towards some more great driving roads in the area before wishing me a blessed trip and rumbling off in her V8 wedge of 'Merica.
I wound through the Ouachitas for a couple more hours, noting the plethora of tarantulas crawling across the road and the misty fog swirling overhead as I kept the nose pointed towards Arkansas. I made it into Fort Smith for a quick bite of dinner and a tour of the town's Main Street before heading towards our campground under cover of darkness. I'm trying to minimize days that long and driving in the dark, but I had an important destination that night and trout beckoning the following morning.
The Little Red River and its fog are spectacular, and we pulled rainbows and browns out for three straight days. One early morning, a fellow camper hollered from quite far away, "Hey! Hey! HEY! What kind of car is that?"
"A Porsche," I yelled back.
"Oh! Okay!"
Two timeless companions, Scout and Carrera:
I spied this cop admiring the car at the gas station in Morrilton, Arkansas and had to take a pic:
"Sure makes for a good photo, don't it?"
Day one fishing on the Little Red:
The car soaking in some early morning rays at the campsite:
The route I put together from Heber Springs to Fayetteville was nothing short of incredible. I picked the faintest and squiggliest lines I could find on the map and spent four and a half hours driving without checking the speedo and soaking in the scenery. My drive even included a five or six mile section of gravel road, which made for hysterical handbrake drifting and high-rev second gear tire spinning. For just a moment, I almost felt like Walter Rohrl. Almost.
Then I hopped back onto the paved road and nailed a few more miles of sweepers before hopping off the road at the first 'Trailhead' sign I saw for a quick hour hike out to some of those famous Ozark rock bluffs. The trail was thickly wooded, which was good to experience since the road was so open and sunny that it made it a little too easy to forget that I'd started the day in heavy rain and was perpetually surrounded by countless millions of trees.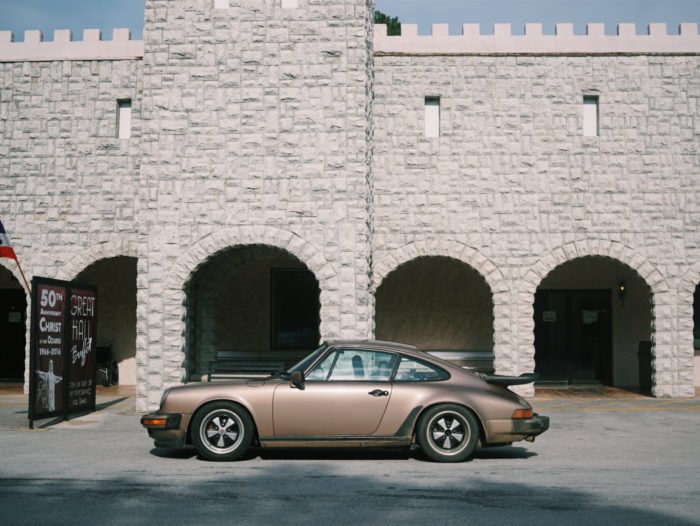 Then I found the 'Arkansas Dragon' or the 'Hog Tail,' a stretch of road that runs parallel to another twisty road, which is relieved by a major highway, which is to say that it's fifteen miles of preposterously steep, tight, and twisty pavement that's only visited by serious drivers and folks who live up there. I hustled hard, got passed by a motorcycle with a passenger on it, then followed their well-versed lead for the remaining few miles, thinking about ya'll but utterly neglecting to take any photos because the moment itself was just so, so good.
The Wevo short shifter has greatly added to my enjoyment of the car, to the point that I now can't imagine what it was like before. After the big tuneup at Moorespeed, the Carrera has been hilariously rock solid, pulling smoothly through the rev range, settling into a happy gait on the few straight sections I've been on so far, and drifting maniacally on gravel. I'm so enamored by the way the entire car mirrors the philosophy of its galvanized steel body. So many people hear "Porsche" and think it's the German equivalent to some dainty, delicate Italian car that requires much babying and involves an excess of glitz. But instead, this is a bare-bones car with bank vault doors, a tireless, gutsy (though hardly exotic) motor, and components that can absolutely handle the abuse that I'm throwing at them. It took me multiple trips to unload the car last night—a testament to the shocking amount you can fit in these things! Someday, I'd love to own a Cayman with its even more ridiculous amount of compartments…
The Hog's Tail spit me back out on another road that a fellow Pelican recommended, which made for a couple more hours of blissful driving on into Fayetteville. I splurged on an AirBnB for some much needed running water, A/C, laundry, and space to spread out. I unpacked my bicycle and went for my first ride of the trip as the sun set over this gorgeous little NWA town. Now I'm sitting in Onyx Coffee, writing this report and catching up a bit on work and wishing I had more time to wax even more poetic about the things I've seen and people I've met so far. Hopefully these pics give at least a bit of a hint as to what it's been like, though they don't even come close to doing it justice.
Man, it's impossible to explain how amazing Fayetteville/Bentonville were. The cycling, scenery, architecture, Crystal Bridges Museum, food, people, Ozarks… I could go on and on.
After Fayetteville, I mapped out a curvy route toward Nashville via southern Missouri in hopes that I could stick to the epic driving and scenery of the Ozarks and maybe score a few more trout before my stop in the big city (Nashville).
I also made sure the route included a visit to the War Eagle Mill and bridge, a place I'd seen one photo of on the internet about a month prior and knew I wanted to visit. It wasn't exactly on the way, but it wasn't horribly out of the way, either. And on a trip like this, "the way" is a very relative term. I am extremely glad that I stopped there. It is one of those places that you hear about and simply go to for the sake of going. The bridge, the active mill, the sleepy setting in the oxbow of a river… it's all glorious was a very nice place to spend a few minutes thinking and poking around.
After War Eagle, I headed for Eureka Springs, a town that I found out just yesterday actually hosts a big P-car event in November called Porsche Palooza. I found a few photos of the event last year; looks like everything up to and including a 918 showed up!
The way I'm traveling has restored an atrophying sense of wonder about the world. I mapped out a route to Eureka Springs in an atlas and wrote down a cue card. The roads themselves were giggle-inducing—stunning scenery, cambered sweepers, off-camber corkscrews as the mountains drop and rise over and over. Arkansas has lots of signs that say "SHARP AND STEEP" referring to the turns and grades of their backroads, and those are very good signs. And the journey is so much more edifying when you don't have a screen giving you a countdown down to the tenth of a mile and individual minute when you'll arrive. When I finally rounded a bend into Eureka Springs, I was stunned. The town clings to some of the steepest hills in the Ozarks and is full of breathtakingly ornate architecture.
I drove through town and waved at the throngs of Harley riders who were on their way to the Bikes, Blues, and BBQ (or something) festival in Fayetteville. I got outta Dodge at the right time, and they were all headed south from Missouri, Iowa, Illinois, and beyond as I headed north towards Branson. The first road I drove up was towards Eureka Springs' own Christ the Redeemer. I stopped in the parking lot to yield to a flock of camels and sheep being led across the road, then parked in front of a giant castle before ultimately heading over to the vista the statue surveys the Ozarks from.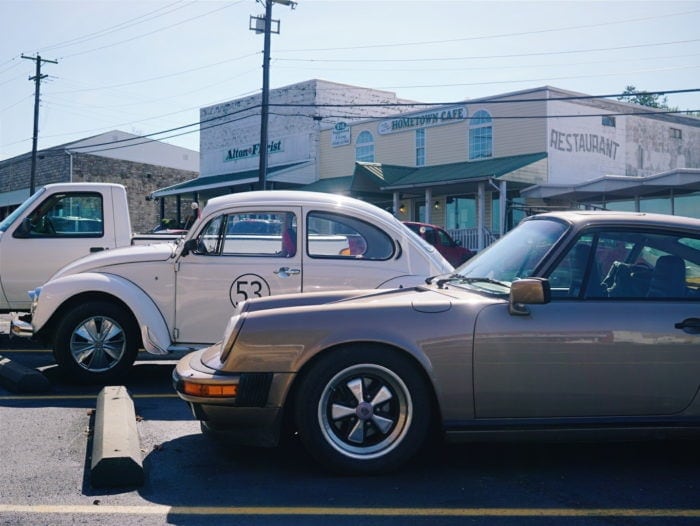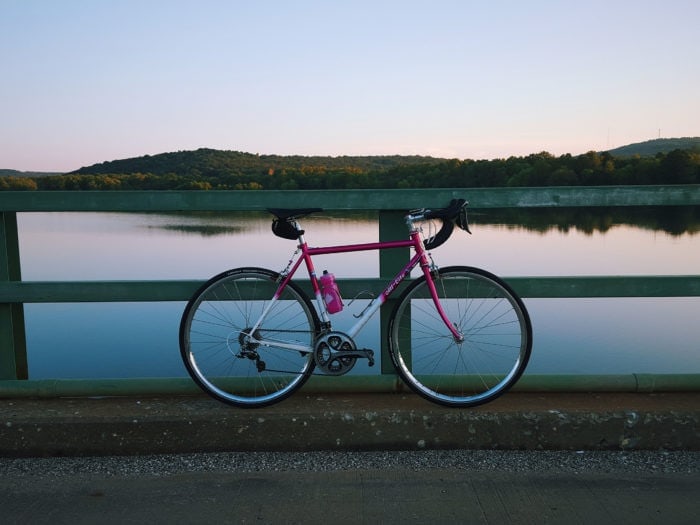 The images I captured don't even come close to doing it justice. I decided pretty early on that this town needs to be revisited for a much longer stint and with a travel partner. My strolls were more impressionistic and I gave up on trying to examine every nook and cranny or capture much of it. I think the same sense of shock and awe that I felt this time will absolutely be felt when I return and dig deeper.
I was talking to some folks this morning about Arkansas and they suggested that I go to work for the state… not a bad idea. I cannot say enough good things, I'm daydreaming about when I can go back, and I am still dreaming about some of the drives and scenery and bike rides out there.
I had to screenshot a preview of my route from Eureka Springs into Branson, Missouri. The Ozarks spoil you for riches when it comes to great driving roads. Look at the options!!
Some much-needed credit to the Crystal Bridges Museum and the Walton family for creating a surreal museum and indescribably cool culture in Bentonville. Free admission, a world-class permanent collection, superb architecture, and a frickin' Frank Lloyd Wright house as an exhibit… wow.
Ok, I'll stop with the Arkansas thing for a sec.
The drive into Branson from Eureka Springs was stunning. I made one illegal pass to get around a Honda Odyssey from Illinois that was dawdling at 20 under… after that, I had dozens of miles of uninterrupted hustling, third gear turns and focus on the road, the surroundings, and the tach with little concern for groundspeed. I could've been going fifteen under or fifty over, as long as it felt right, that's what I did. The flow state achieved driving a great car in the way it's intended to be driven among new and instantly familiar scenery is transcendental. The way the totally unassisted steering lightens up at speed, comes alive with feedback, and weights up so nicely as you dig deeper into turns is so sublime.
The combination of a great driver's car and so many fly fishing stops has reawakened my inner kid and helped me rediscover that pure joy that a bad concussion and traumatic brain injury tried so hard to take away from me. In May, my dad had prostate cancer surgery. In June, I got hit. In July, I bought the car. Now, it's September and all I can think about is which stream I'll be wetting my line in next and which roads I'll be driving on my way to the next town or campground. It's a simple, unadulterated joy that can't be suppressed by stressors or the frequent sinking spells I've been experiencing due to my existential/TBI backlash lately. I could write volumes about fishing and driving and so many other things (and I will), but back to Branson…
I came in across Table Rock Lake, which was one of dozens of gigantic lakes in the Ozarks that I've passed in the last few days. And the sight of all that shimmering water surrounded by undulating mountains never gets old.
The car and Harambe surveying Table Rock Lake from just outside of Branson. RIP, homie.
I explored Branson for a few hours, gave the car a much-needed bath, then hurried back to my motel to begin scheming for the next day's fishing trip. I'd heard rumors of trout in a part of the Mark Twain National Forest that wasn't too far off my route, and I feverishly Googled in my still-sweaty clothes from a long day of driving and hiking and seeing all the themed theaters of Branson.
There's a spring that feeds into a river in the Forest that instantly doubles its size and keeps the temperature at a constant 55 degrees—essentially a natural version of a tailwater fishery. Trout have been living there since settlers first introduced them in the 1800s. Very few people visit this area at all, let alone fish it. I drew up a drive from Branson to this section of the forest that turned out to be one of the best ones yet. A very foggy morning, tons of turns, minimal cars, and thick National Forest scenery. I kept thinking how blessed I was to be there, how incredible America is, how I'll truly never tire of driving a well-engineered machine on fun roads in beautiful scenery.
I stopped for gas and donuts in White Plains, Missouri at a Casey's (I have extensive history with Casey's in Iowa and knew I had to stop there). I was immediately accosted by a fried dude on meth or similar, who wanted to talk to me about the Porsche but couldn't formulate full sentences. I went inside and filled up my water bottle and picked out a couple of donuts, then returned outside to a gloriously thick accent from an older, soberer man in overalls.
"What year is it?"
"Oh, it's an '84."
"Where you coming from?"
"Well, Texas, but I picked up the car in LA about three months ago and have pretty much been driving it ever since."
"I seen you pull in and knew you wasn't from here. That's a gorgeous car."
"Thank you so much! I'm loving it. The roads around here are incredible."
"I bet it just flies, huh?"
"No comment."
I proceeded to wash my windshield and sit in the car looking at my atlas and eating my donuts. He returned to the stoop of the gas station where his buddy was waiting.
"What year is it?"
"1988," the man in overalls said with authority. "He bought it in California three months ago and hasn't gotten out since."
"Now, is that what they call a h-whayuhl, tayuhl?"
"It is," overalls said knowingly.
I still wonder how the legend of the whale tail has made its way to rural southern Missouri and how those men knew it so instinctively. They didn't know I could hear them through my cracked window, and the conversation continued and faded in and out as I fired up the car and gave them a wave and a throttle blip as I headed back out towards the river.
My directions to the troutiest section of the river were sketchy at best, and the guy I bought my Missouri Fishing License from was willing to help, but in that typically vague and authoritative way. As if his suggestions were the only ones to take for everything from where to park to what flies to use. I parked where I thought he'd told me to and set off down the wildly overgrown trailhead. Almost immediately, my Chaco-clad feet and exposed legs were lit up by stinging nettles—truly one of the worst pains I've felt in my entire life—but I pressed onward, convinced that netting even one trout in Missouri would make this worth it and make my day feel much better before bunking up in Sikeston and grinding away at work all afternoon and evening.
After over a mile of trudging through thick woods, stinging nettles, and friendly turtles, I realized that this trail was going to parallel the river without ever reaching it.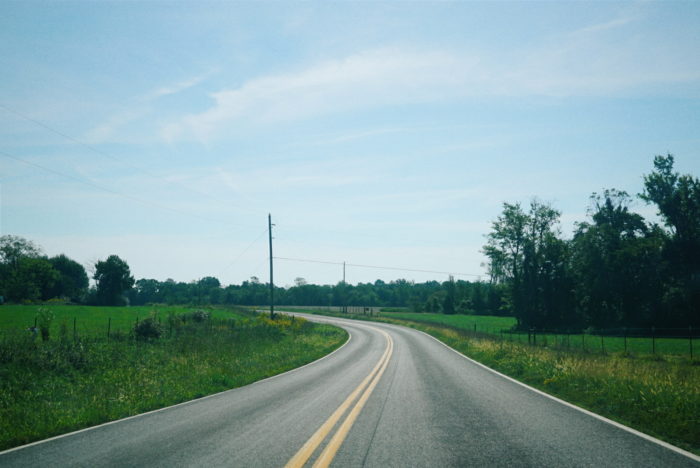 Also, the Ozarks are home to more spiders per capita than anywhere I've ever been, safe for a semi-abandoned bunkhouse in rural Baja Mexico, but that's a story for a different time…
So I turned around and trudged back the way I came, feeling disheartened and praying for some sort of grace and acceptance at the laughable circumstances I was in. My legs and feet were in searing pain, akin to the time I got a faceful of gasoline, and there were no trout in sight. I was over an hour away from cell service and utterly unsure of where to go.
I returned to my car, the stifling stillness and heat exacerbating the burning of the nettles. I Dukes of Hazzard-ed my way out of that gravel pullout and onto the highway and sped to the campground down the road. I flew towards the water, yanked the parking break, and ran in. Freezing. Sweet, sweet relief.
After I got over the nettles, I set up my fly rod and headed back into the forest towards the main stretch of river, which quickly overwhelmed with its depth and power. I was shoulder-deep, nearly getting swept away, and barely getting casts into the main water. It was cold and daunting and I was getting more dejected by the second. I decided to hike back up above the bridge and spied a promising section that I had to traverse the entire river to get at. I knew this was my one shot to maybe score a trout in Missouri, so I focused my entire being on the approach, the cast, the careful mend and strip.
BAM.
A wild rainbow nailed the wooly bugger and I hollered out loud even though I hadn't seen another human in hours. It was all worth it, my dopamine levels were off the charts, and I was going to wet wade in the 55 degree water for at least three more hours. And so I did. The trout here were all wilder, healthier, and more feisty than their Arkansian cousins. And I was in the midst of a National Forest named after a writer while the Carrera laid in waiting across the river.
Found another foreign car with the engine in the trunk in Alton, Missouri:
I'll spare ya'll too many details but end this update by saying that I found a hidden trout fishing mecca in Missouri, catching well over a dozen in the next few hours and spending the rest of the afternoon driving outside of cell range on the last of the Ozarks' winding roads before noticing that I was descending without commensurate climbing and the fun was coming to an end.
My last hour into Sikeston was flat and wide open and reminded me a lot of the Plains from Texas to Oklahoma to Iowa. Cotton farms and controlled burns abounded, and the smells with the windows down and the ambient temps up meant that some of my senses remained engaged even as I settled into a numbing 75 mile per hour straightline cruise…
A bit of catching up from Sikeston, Missouri to present. On Thursday I drove from Sikeston to Nashville, which included a few Midwest curiosities and much excitement as I was heading to the land of great tunes, food, coffee, and old friends.
Within a few minutes of leaving Sikeston, I had the type of moment that's truly amusing to a Texan who's used to driving multiple hours to the next big city.
I left Missouri for Illinois by crossing the Mississippi.
Then nailed a few 4-3, 3-4 down and upshifts on a couple of large sweepers before reaching another bridge which meant my time in Illinois was finished (for now) and it was time for Kentucky.
Illinois, we barely knew ye.
I pulled off at a scenic overlook a few minutes into Kentucky and surveyed the delta where three states meet and the Ohio joins forces with the (comparatively small) Mississippi to turn it into the "Mighty Mississippi." Such an unknown and strange slice of America, replete with its own Cairo (Illinois) right where the rivers join and the heavy freighter commerce begins at a new level of earnest.
I drew up a route that would get me into Tennessee via the Land Between the Lakes National Recreation Area. I found some good backroads as I got back into the hilly(er) part of the country and the road that runs through the middle of the park was in perfect shape and nice and sinewy. The lakes that flank the enormous forest are also enormous and the few glimpses I caught of them were truly stunning. They're connected at the top, which makes the LBL one of the largest inland peninsulas in the world and the combined lake one of the largest manmade lakes in the world. It's a really interesting spot that is relatively unknown in our national conversation. Something I notice more and more every time I take a daytrip or months-long trip is that so much of America really does fall into the "silent majority" category. In lifestyle, philosophy, or sheer landmass, many of our country's largest assets keep relatively quiet. Lake Barkley and Kentucky Lake may not serve the type of historical footnote importance of a Lake Mead or the natural importance of the Great Lakes, but it was shocking to me to see how big they are and realize that I'd literally never heard of them. And I'm an Americana arcana geek. There are 170,000 acres of forested outdoor playground and over 300 miles of undeveloped shoreline. That's a staggering amount of space that most of us know nothing about. Multiply this by the nooks and crannies that I've seen (and all the ones I've missed by choosing a one side of a fork in the road over another and zigging where I could've zagged), and the scale of discovery and kismet and learning becomes virtually infinite.
The last couple of hours into Nashville were relatively uneventful, though my mom's motherly text about there being a gas crisis in the larger cities in the Southeast was not wrong—I watched the price of gas steadily increase by quite a lot and saw many pumps with bags over the nozzles as I got closer to Nashville proper. The Porsche's massive tank shrugged this off and remains pegged right around half full even after a weekend of late night joyrides and a trip out to Pilgrimage Music Festival in Franklin yesterday.
My first stop in Nashville was one of the iconic-but-pretentious Barista Parlor coffee shops for some much needed espresso and a few hours of catching up on work.
Since then, it's been nonstop. Famous eateries, multiple concerts, family friends with dream car garages, cliff jumping at Percy Priest Lake, swing dancing, early mornings, late nights, and lots of new friends in Nashville. There's nothing better than picking up someone you've known for all of five minutes in an 84 Carrera and being told in a thick Georgia accent, "I've never felt so cool in my whole life. I'll never be this cool ever again," before spending nine hours soaking in (a little too much) Tennessee sunshine and several of your favorite contemporary musicians one after another at a festival that seems tailor-made for your tastes.
Jason Isbell shredding:
From Nashville, I drove to Gatlinburg, Tennessee to post up for an evening. On the way, I stopped through the fly shop in Townsend and then darted straight into the Great Smoky Mountains National Park to chase some native brook trout, avoid cell service, and stay out just a bit too late.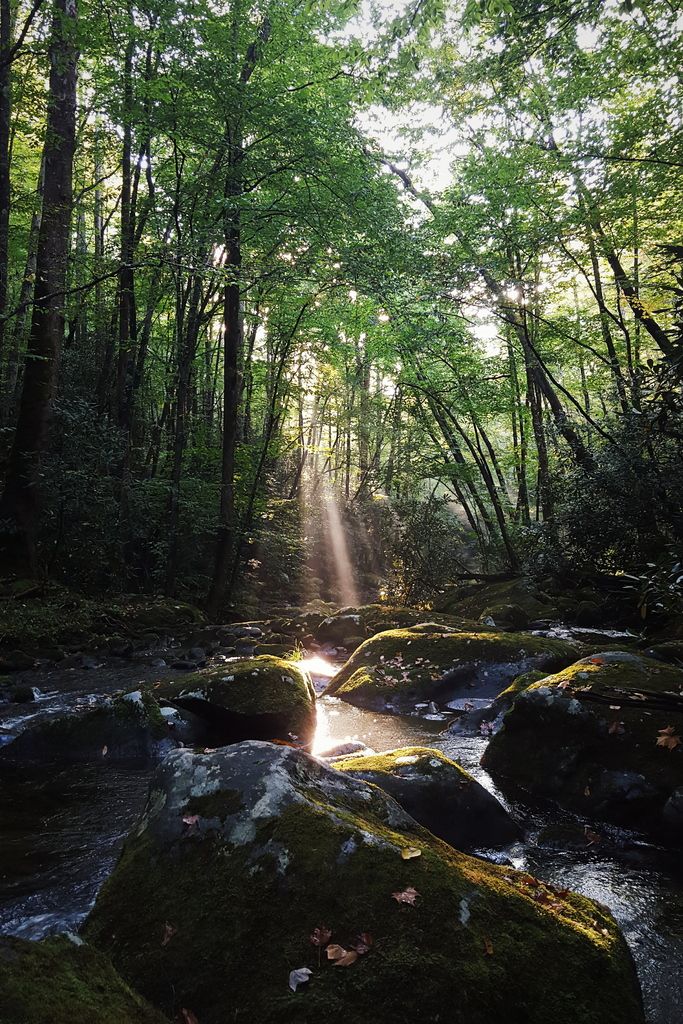 The Smokys are otherworldly-gorgeous, and since I do most of my transit on weekdays and it was already 4 PM, I had the place practically to myself. The proprietor of Lone River Outfitters had scribbled all over a map and told me about a dirt road that led to the Appalachian Trail and streams full of native brookies, which was obviously the place to go. I took off towards the park, which is full of great roads. The drive up was a blast, tight but just flowy enough for the Carrera to shine. Its diminutive size is great for these National Park roads that seem to be paved at 80% scale relative to normal two lanes, and its power curve and general handling attitude make hustle-and-flow driving easy without making me too much of a public enemy. When the road turned to gravel, I dropped from third to second and kept right on chugging. After stopping for a photo break, I noticed a pickup's headlights behind me and wondered if I should pull over to let him pass.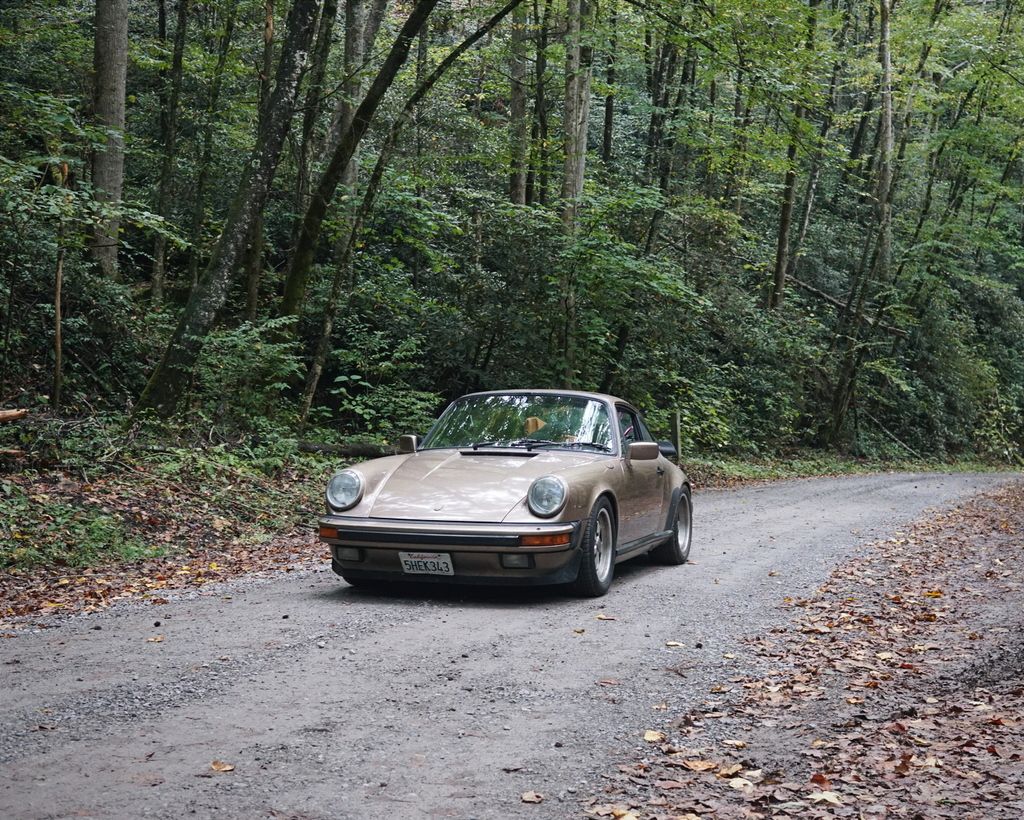 Then, I remembered that I'm a fisherman and a Porsche driver, and I kept the throttle pinned, dodged a few potholes, and left him in my dust (literally) before reaching the road's terminus at the trails. The Carrera eats up gravel, even on Turbo tierods with the suspension cranked all the way down. The rock guards on the rear fenders and the thick, galvanized steel body are so dang practical! The pickup rolled into the lot about a minute later, driver and passenger smirking and shaking their heads in disbelief. There was plenty of stream up there for all of us.
The fishing was fun and wonky, lots of tiny native brook trout that were more worried with whether something floated realistically than what that something was. Rapid-fire strikes, tiny fish, and tumbling waterfalls kept me out until it was nearly dark, at which point I had to hustle towards Gatlinburg via the park roads in deep dusk. I've found myself deep in the woods after dark so many times on this trip, and every dang time I feel like I'm in an 80s movie. Shifting from second to third and hearing the wheeze and whir of the motor and watching leaves swirl in my rearview as thick pines and rock faces create endless tunnels… it's all very German and cinematic and vaguely maniacal. Needless to say, the car is happiest in these situations.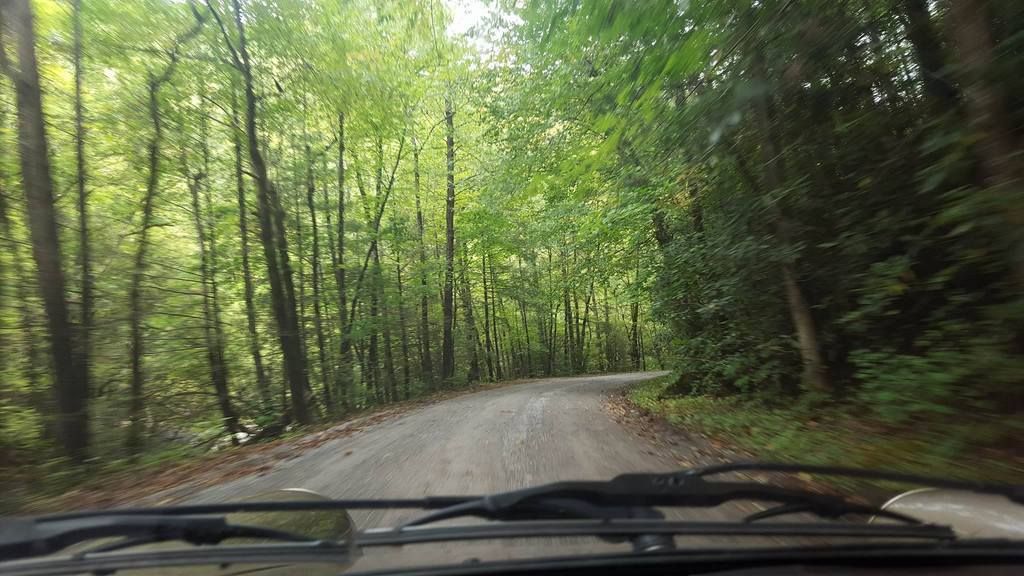 I woke up at the crack to have some kitschy log cabin pancakes in the surprisingly kitschy town of Gatlinburg. Thankfully, the only people who were up at 7 AM were at least serious tourists, dedicated to hiking before the masses and seeing Dollywood before the lines get too long. The night before I'd eaten dinner at 9 PM because of how late I was out fishing and the time zone change, and I was stunned by the amount of revelry going on at the bar on a random weeknight.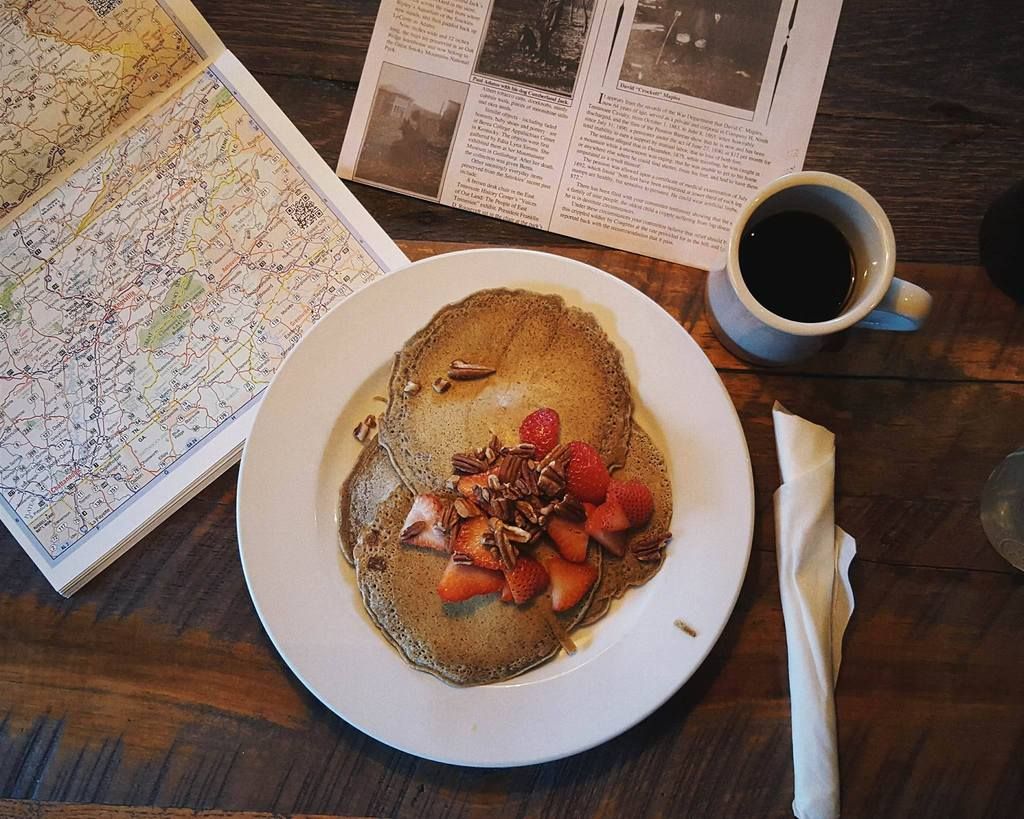 My route got a little weird as I continued east over the Smokys the next day for a brief detour to meet my sister who was working a horse show in North Carolina, but that did mean that I got to fish my way up and over the state line before bombing down towards Asheville.
Our time in town was marked by gross hedonism and some touristy meandering, including nearly buying a pedal steel guitar. I've wanted one for ages and seeing Kacey Musgraves the weekend prior had me really high on the idea. That, and the amount of sugar and coffee I'd already had that day.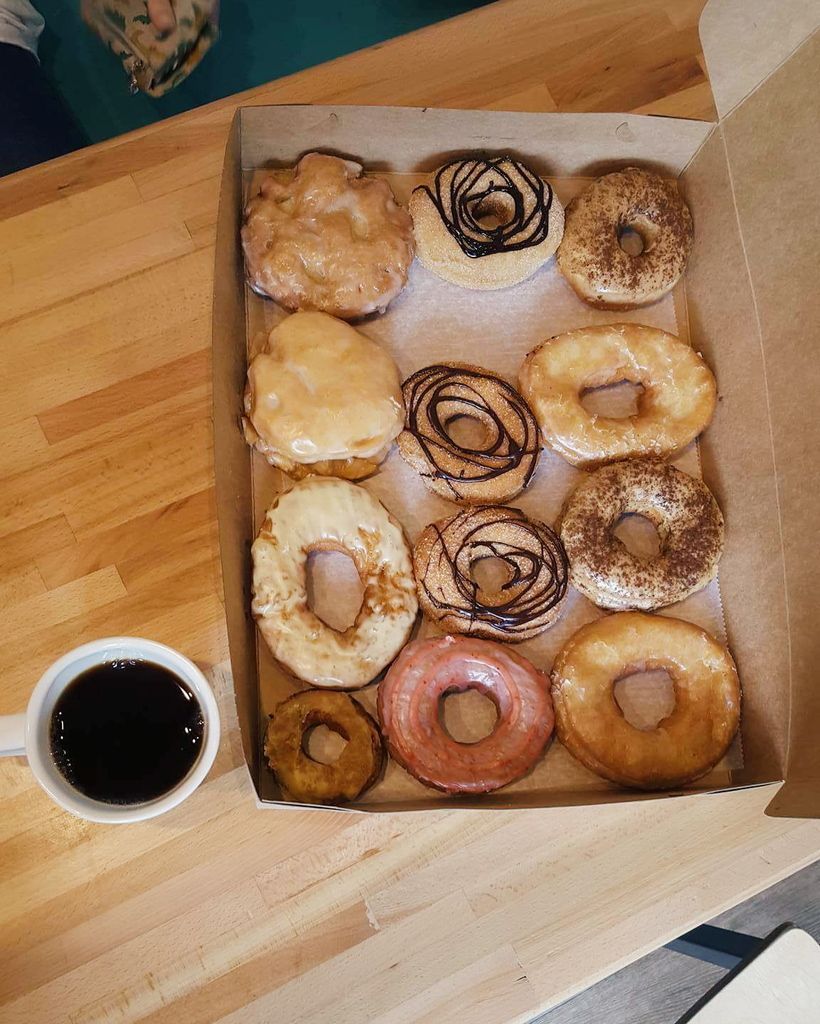 I got a huge kick out of seeing a pot full of Sarracenia, Drosera, and Dionaea at Vortex Donuts. Carnivorous plants are up there with cars as one of my longtime favorite things to geek out on… Weird.
Spent the next twenty four hours on these gorgeous grounds hanging out with some different horsepower.
A few days prior I'd received a note from a Pelican forum member mentioning that he was in Blue Ridge, Georgia, and that he had beer, a bed, and trout nearby. When I first looked at a map, it didn't make much sense for me to go there, but after finding myself in North Carolina and not needing to be in Atlanta until Friday, I sent him an email Wednesday night asking if Thursday was ok. Within minutes of waking up on Thursday, I had a reply that read: "John: Come on!" and that was that. I plotted a course from Tryon to Blue Ridge and spent the day blasting through some glorious backroads after passing back through Asheville for coffee.
This lake is on the North Carolina-Georgia border and continued the trend of shockingly gorgeous bodies of water surrounded by mountains that started a few hours after leaving Texas for the spot pictured on the first page in Oklahoma. At this parking spot, I stumbled upon two very Euro dudes frolicking in the frigid water in their tightie whities. They complimented my car then proceeded to speak German to each other. You can't make this stuff up. :laugh:
The specific directions in Dave's email mentioned a gravel road, which, as we know by now, I relish. This one was steeper and twistier than anything I'd seen so far, and the payoff was magnificent. A cluster of houses perched atop one of the Blue Ridge Mountains, totally removed from the world. The night was full of dogs and stories and cold beer and warm dinner. It was so edifying to meet someone as a result of shared stories and to have such a great night spending time with gracious hosts—all too often, the world lacks in this sort of trust and hospitality and spontaneity. But it's also definitely still out there if you look for it. As always, more on that on my website www.johntesi.com