The next morning the sun shone brightly through the cabin windows before my alarm clock rang. Sunshine in the mountains has a certain quality, as if that few thousand feet closer to the sun creates a shimmering clarity that's lacking lower down. The air was frigid but the sunlight had a piercing warmth even before seven A.M. Hank was still nestled next to me in his coziest sleeping position—curled in a ball with his chin resting on his tail, which gets bristly like a raccoon's when he wants to be comfortable. I looked at him and sighed against the sunshine and my primal instinct to rise. The cold air and the bright sun competed for my response, and I chose to follow Hank's example in spite of the allure of the pines and the sunshine.
When the alarm clock clanged, I was in shock. It seems that in unfamiliar beds, the deepest sleep always comes just before it's over, when you've stirred, realized that you aren't quite sure where you are, and resign to squeeze Hank a little tighter and simply accept the uncertainty of hurtling through an ever-expanding universe on a lava-filled rock. So I climbed out of bed and put my feet on the frigid floor, which was quite a shock after scalding my skin in Moab 36 hours prior. I quickly dressed and let Hank greet the day, and our genial neighbors were busy packing up and cooking breakfast. They waved and I walked over, empty-handed as ever. I had left all of my most valuable contributions (ie: coffee and bug spray) in the Land Cruiser, which was in some state of disrepair down the mountain. I was greeted with smiling faces and the refreshing sound of Little Big Town playing on a Bluetooth speaker and a piping hot cup of coffee that was far better than it needed to be for the circumstances at hand. This motley crew was full of surprises, country music and good coffee mixing in with sassy haircuts and a tenuously self-aware relationship to what they called the "Boulder Bubble." The soundtrack began to shuffle, a riotous mix of early 2000s punk rock and country and the occasional older songs. We talked about everything and I was fed once again and all the while they continued to pack and organize with admirable cheer and efficiency. This energy was inspirational, and I'd completely forgotten the pain of an interruption in my plans or even what my plans were.
We exchanged contact information and I was invited to come hang out in Boulder, which sounded profoundly appealing and likely as I'd accepted the fact that the truck would be in the shop through the weekend and I'd need to find more Colorado shenanigans to occupy me for five more days. All of this played out as Hank explored the grounds and I gratefully swilled coffee. As soon as I finished breakfast, we were going fishing in the backcountry all day long, with rumors of Arctic Grayling waiting in one or two of the three hundred-plus lakes on the Mesa. Arctic Grayling are a species of fish in the Salmonid (salmon and trout) family that is native to regions in the Arctic Circle (primarily Alaska), that have intrigued me since I was a child with a much longer attention span and more devoted interest in the topics I care about. I would pore through books about fly fishing and read about these gorgeous fish and their delicate appearance and surprising strength and voracious appetite, and I knew that someday I needed to catch one. Some part of that is no doubt playing in my subconscious as I find myself drawn towards Alaska on this trip in search of something undefinable. Still, I'd heard that there were grayling in Montana and even a few select spots in Colorado, and that very morning the General Store owner had indicated there were some up on the Mesa. This is the type of pursuit that drives a man over the stern, that turns into prizewinning literature about hubris and obsession, that leads to an entire day spent in complete loss of time, pounding the banks of a nearly-nameless lake in the high country.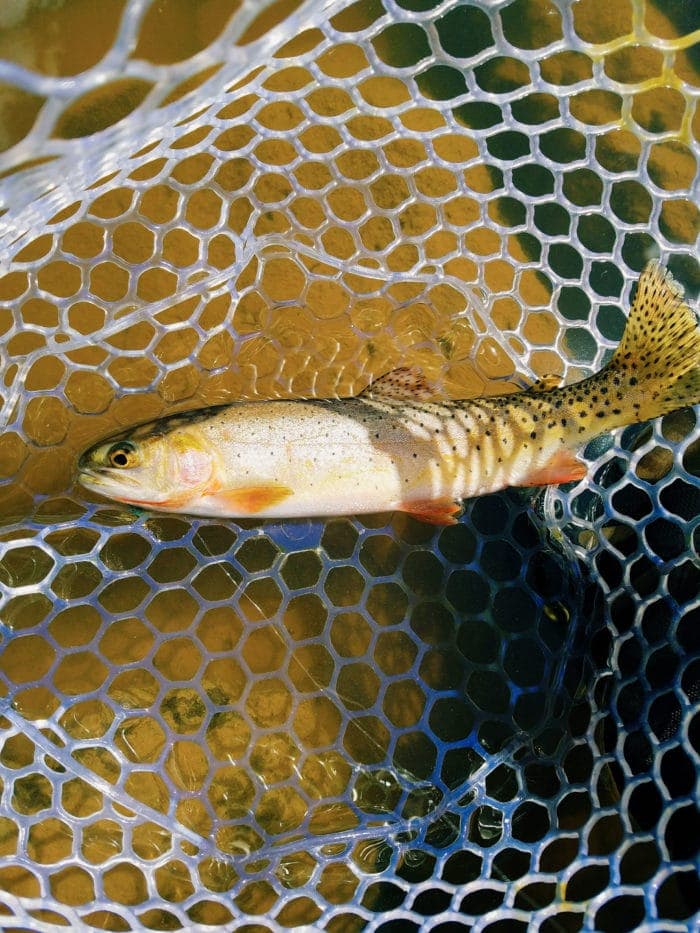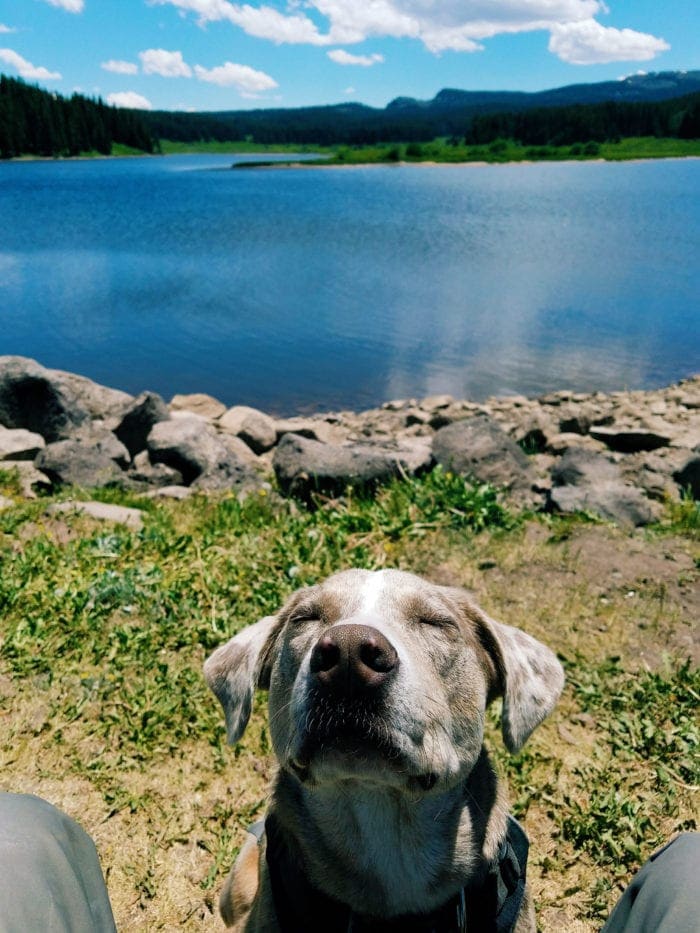 We drove the rental Nissan Rogue up the progressively-worse Forest Service roads. It may not be as tough as my Land Cruiser, but in the conditions we faced that day, it was intoxicatingly comfortable and quiet and easy to drive. Satellite radio signal reached us even where cell towers could not, I kept one hand on the wheel and one on the windowsill and kept pace with every pickup truck on the mountain. I saw visions of something more efficient and reliable and anonymous dancing through my head, a newer vehicle that presents fewer problems and more comfort for cruising across the continent. The easy way out is always tempting, and even a staunch "enthusiast" like myself was humbled by the progress engineers have made over the years. A rental-spec crossover proved a huge stumbling block in my mind, which was perversely wonderful.
And when we finally arrived at the lake I picked out on the twelve dollar map I bought at the General Store (no map I owned came close to enough detail for the Grand Mesa), I parked the Rogue in a picturesque clearing near the water and didn't feel compelled to take a picture of it. I slid into my waders and assembled my fly rod and walked dutifully towards the water. It was the most sublime fishing hole I believe I've ever seen: the vast flatness atop a massive mountain, glistening water and resplendent wildflowers and the healthiest pine trees I've seen in Colorado and vague creeks babbling in dozens of directions, all wrapped in this geographic anomaly that was difficult to get a grasp on. All I knew was that I was well over an hour from the already remote cabin I slept in and still the occasional truck or Jeep passed by with a courteous wave and a destination truly unknown. It was a convivial, communal solitude. Nobody else so much as attempted to wet a line in the lake I chose.
Within minutes, I hooked my first fish, a mysterious sucker fish that was a more ornate and sporting cousin to the carp I'm accustomed to. Then I decided to give my favorite fly a whirl, and within a concentrated cast or two it was smashed and running away from me at an impressive speed. I was trembling with anticipation, thinking that there was even the faintest chance it was a grayling sent me over the edge. I often struggle with the focus aspect of everything from ball sports to the art of properly fighting and landing a fish, and so it was truly sublime that I played this one perfectly; I kept composure even when I saw the promising flash of silver and iridescent blue, I was gentle and respectful, and I brought him to the net reverentially, in awe of this fish I'd spent over a decade dreaming about.
There are so many parables about meeting your heroes, but here my first encounter with an arctic grayling was everything I could've dreamt it might be. It transcended any expectation of what a grayling might do for me and instead gave me one of those rare moments of uncomplicated feeling and direct contact with the elements of Creation that I hold most sacred. We spend so much time building up hallowed ideas in our minds, only to find the reality a bit more prosaic than our glittering imaginations. And yet, the outstretched dorsal fin of the grayling was better than any photograph had conveyed. The fish itself was not enormous or even the most overtly beautiful I'd ever seen, but in its subtlety were a great many layers. And the mere act of coming into contact with the imagined  and unknown helped me to parse through vague desires and tangible needs, to ultimately understand this: my need to chase fish is unshakeable and primal and fundamentally good. It was unconscionable that I could be in Los Angeles right now, in the belly of the beast—indeed, I didn't even realize that I was supposed to be there at the very moment I held that grayling until I sat down to write this some weeks later.
In the silence and space of a mountain meadow at ten thousand feet, the experience had a preternatural calm. My joy was only my own, with nobody but Hank to share the moment, all of the emotions it brought were left to simmer and echo inside of me. The fish were safely protected from internet mentions and roadside parking lots, which meant they were wonderfully wild. In a sense, every single fish I bring to the net is a heroic ideal realized, a hope or dream attained, an undefined pursuit made real. The more I see, hear, learn, and fish, the more I realize I'd rather catch one feisty wild trout in a beautiful place than a dozen dramatically enlarged fish that exist in unnatural settings, like those that live beneath coldwater dams and get pursued almost 24/7 by anglers who see alluring pictures online. The scale and scope of our dreams should only be dictated by ourselves, but it can be nearly impossible to learn that what we really want isn't the grandest version imaginable, but simply our own. Something that's priceless but radically attainable should you set your sights (and pick your flies) rightly. The satisfaction of doing things untethered from external pressure to perform or the need to measure up is unspeakable, and it makes catching a few fish worthy of every inconvenience and penny and moment of doubt or discomfort. In a world of soundbites and curated photographs, the journey and struggle to get to the photogenic mountaintop are largely lost on us. I aim to share not only the soaring highs of simply enacting your suppressed daydreams, but also the inevitably crushing lows of daily life and epic adventure alike. And this particular moment was only made possible by the crushing reality of my truck's transmission failure. Theoretical talk about silver linings often falls flat, but when the silver lining is a silver-scaled fish of your dreams, it's a bit easier to believe that things perhaps happen for a reason should we give the narrative ample time and space to play out.
I obsessively photographed the silvery grayling and let it slip back into the frigid water, while Hank basked on the warm rocks. I felt I'd cracked the code of that lake on that day, so I tossed the same fly and experimented a bit with retrieve. Two casts later, a much bigger grayling took the bait and put on a beautiful fight. I hooked it even cleaner after learning how exactly they eat and how their mouths are shaped, which meant I was able to unhook and release it without ever removing it from the water.
Lest this seem a lot of talk about fishing, it's important to remember the inherent poesy in this pursuit, and also its metaphorical value as a stand-in for whatever things you love and neglect from time to time. Whether you love to fish, are curious about it, or find the idea of it loathsome, I pray there be something(s) in this world that cause your heart to skip a beat and your mind to go blank and quiet and get overwhelmed with beauty.