From Raleigh, heading North made for quicker progress across state lines. I made plans to move beyond the comfortable confines of North Carolina for the first time in over a week. Charles and his wife Chris both hailed from Roanoke, which promised to be the type of town I needed as I eased back into the wild. The drive towards Roanoke was one of the most stunning I've ever made, though its pace and setting made it nearly impossible to stop and capture the magic on camera. Sometimes God seems to orchestrate things this way, to force us to absorb it all in the moment and know that it's something He made specially for the present observer. Steep farmland, dramatic drops, slinky mist, and a panoramic gradient sunset made for a quintessential Appalachian evening, and I spent a bit too long chasing the promise of a better vantage point to watch the sunset, which led to some interesting byways but never quite the vista I envisioned.
Zagging down side streets off alternate routes provides an intriguing peak into a seldom-seen America, one replete with the full gamut of house sizes and automobiles and other indicators of taste and preference and material success. It's eye-opening to feel surprised to see a new Range Rover in rural Virginia and mind-bending to consider the logistics of a grocery run in a place that I could only find by accident. Such is life in the lands that stretch between big cities and small towns, in the places where fences stitch together swaths of landscape like patchwork quilts, the places that pollsters forgot and guidebooks ignore. These are the places where everyone knows who else is around even when all the inner workings appear arbitrary and aimless to the outside observer. And yet, when you're there, you're as welcome as a sunny day.
I rolled into Roanoke in the depths of night a few weeks before Halloween. My AirBnB was the mother-in-law sweet of a kooky Victorian that was well past its prime whose owner had decorated for Halloween more zealously than most people do for Christmas. The fog machine in the witch's cauldron obscured half the block in thick, convincing fog. Lights, figurines, and faux gravestones littered the yard and my host emerged to show me to my quarters. After settling in, I took off for a quick run around Roanoke under cover of darkness. It was eerie and quiet and frozen in time, with Victorian homes in various states of disrepair and later efficiency units filling in where profit outweighed history. The direction away from downtown became so dark I could scarcely see where my feet were stepping, so I turned the other direction and ran through a stately, somnolent downtown before rushing back to my accommodations for the evening.
I found an Indian restaurant open late (a bizarre motif of my trip—I truly could write a chronology of the United States mapped out by saag paneer and garlic naan) and zipped over the bridge toward the row of shops it was in. A group of Indian men smoking on the patio asked me a few questions about the car before I went inside and ate alone while sneaking glimpses of whatever football game was on the lonely TV above the bar. Roanoke felt much further from other places than its dot on a map might suggest. The fervor of the mountains picks up in that stretch of Virginia, and arriving in a place by night always disorients and gives the sense that just beyond the light is an imperceptible shadow world inhabited by things that our minds can't quite illuminate or imagine. And so, I ate in the comfort of incandescent lighting and vaguely Indian music and scurried back to the car and into the strange confines of a mother-in-law suite in an overly Halloweenie home. I had some tough conversations by phone and felt further away from home than ever, then fell into a fitful sleep that was violently interrupted by the falling crabapples that smashed into the roof unpredictably throughout the night. You never grow accustomed to such erratic clamoring. The ripe fruits seemed a pathetic fallacy for my depressive nightmares, every smash another thought puncturing the darkness that filled my head thanks to the Zzzquil I'd bought in Charlotte.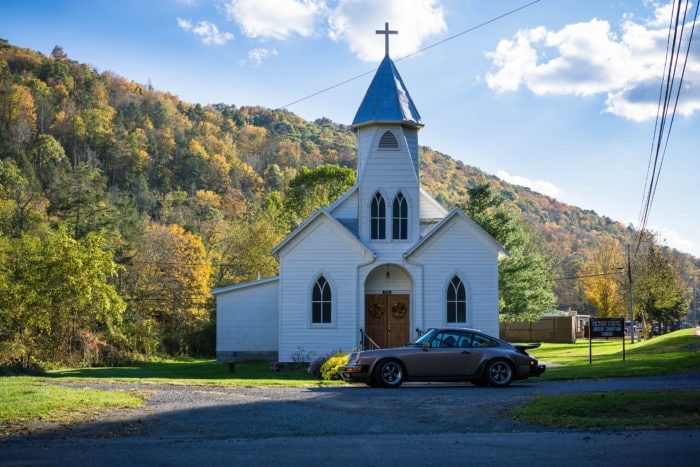 I awoke the next morning to discover a much brighter and friendlier town, still somewhat gothic and Appalachian and not-quite Southern nor mid-Atlantic. I left quickly to head for a coffee shop, where I began burying the darkness and medical fog with espresso. While I was seated there hammering out corporate copy, I received notice that my Petrolicious story had published. This was undoubtedly the biggest victory in my writing career, and I clearly couldn't contain it, for the woman seated next to me asked what happened.
I described that moment when it happened in this post a few months ago, but it bears repeating.
When I told her I'd been published somewhere I was proud of, it was she who encouraged me to pause and celebrate, and her accolades earned the ears of the girl seated on the other side of her. Suddenly, the full bench of early morning Roanoke writers were pausing to acknowledge the beauty of publication. It was a surreal and dutiful victory, and as always, I downplayed its significance as perfect strangers told me it mattered a great deal.
I grabbed one more coffee then hurried towards the marketplace to stock up on supplies and dial into a conference call before hurtling towards West Virginia, away from civilization and connectivity and into the heart of big trout territory. I bought pre-made sandwiches and local beers and stopped into a fly shop where they hadn't heard of the river I was headed to, which I took as a promising sign. I joined a conference call about content marketing for postal logistics software, which was such a numbing contrast to my current situation that its pain barely registered. It wasn't until one of the people on the call said, "I tell you what, I'm currently driving 80 miles an hour down I35, so I'll have to send that to you later," that I realized how little everyone on the call cared. I, for one, literally had no idea what we were talking about, and in my post-concussive haze and frothing desire to head northwest towards the trout, I felt even further away from that work than my physical location was from my home and my office.
After the 36 hour trek from Charlotte to Los Angeles and back for work, I should have known that even the flexibility that allowed me to road trip and work at the same time was not a valuable enough currency to keep at it. The stress and inanity were taking their toll, and the fact that I'm just now penning this story only furthers the notion that I was being robbed of my ability to write by selling my ability to write.