Much has been made of the America of yore slowly dying on the vine. This topic is as timely as ever lately as our candidates have masqueraded around the country striving to convince different demographics that they've been systematically oppressed and victimized in the name of economy or efficiency, that interstates and free trade are to blame for their feelings of malaise.
I was stricken by a reply to my initial Success Story on Bring a Trailer that lamented, "At 52 I am too young to have made some of these journeys back when On the Road was something you could really live without pop-up fast food franchises, endless freeways, and chain motels." I had to think long and hard about this claim, because I often find that the more we submit ourselves to what's been canonized as Kerouac-ian kismet, the more we find that such a world is more a state of mind than a hard and fast reality. And states of mind are devilishly difficult to suppress.
A Motel by Any Other Name
While there may be more Subways and IHOPs and Best Westerns than there were when the semi-fictive meta journeys of On the Road and Dharma Bums were taking place, the feeling is very much the same. You stop at a motor lodge, whether it's defiantly independently owned and operated or has since has new signage affixed to its old marquee. You meet a man whilst walking the dog at 0630 hours, who mentions off-handedly that all dogs, "even little ones like that," are descendants of wolves. He has "spent time with wolves" and tells me the secret to ingratiating yourself with them. "They like to stick their tongues all the way down your throat like a big ol' French kiss. This freaks lots of people out but that's how you get them to like you." He is a chiropractor who owns a nine year old dachshund. "Most people thought she was paralyzed for life, but I have been doing some spinal realignment work on her and she's good as new."
As I load the car to head out towards Great Sand Dunes National Park, the man returns. I am still standing by my brown Porsche with Bella still attached to her leash, only I've traded my beanie for a trucker hat. "Are you the guy I was telling about the wolves?" he asks me. I am. "Here, I thought I only had one of these left but I have a few." He opens his wallet and hands me the business card of the woman who lets visitors come experience wolves. It turns out that her ranch is many hours to the north, the opposite of my intended direction, but I take the card and mention that I will seek it out someday. And I very much plan to.
But not that day.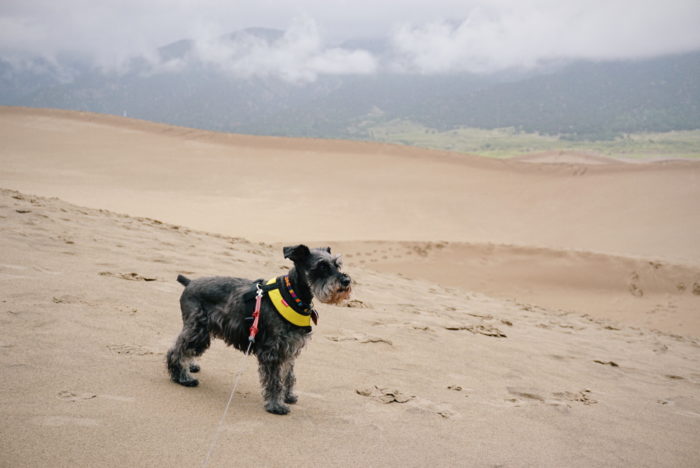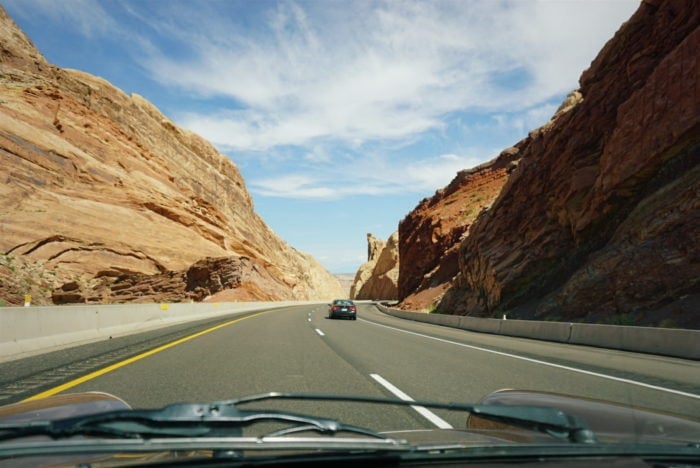 Table for One
Still, such interactions are not only possible, but abundant, in today's world. The night prior, I'd even had one inside of such a chain restaurant, which happened to be the only place left in town to get food when I finally scraped myself off the motel bed in search of dinner. The second I walked into the IHOP up the road, the hostess exclaimed "I found Waldo!" without missing a beat, on account of my red and white beanie I wear when the temperature drops below fifty five degrees.
One thing that we find when we set out in search of only-God-knows-what is that it's usually out there. There may have been a time when it was subjectively easier to hitchhike or there were more beat poets hanging out on Haight Street, but that does not mean that we cannot get out on the road and discover things to be both as insane and as inane as those idolized road warriors of bygone eras found them. I used to be a bit too quick to mourn the loss of everything from "the objectively greatest music ever" to "a time when there were better writers and better things to write about," but that is a universal affliction.